Posted on 2014.07.21 at 09:48
This week I purchased what I'm calling The McConnaissance Box Set, which actually bears the much more mundane title "The Matthew McConaughey Collection". It was only £15, which I thought was a bargain for three fairly recent and critically acclaimed films on DVD. Now compare this to an older set that is also a collection of Matthew McConaughey movies and you will see how remarkably successful his image makeover really has been in terms of how his work is marketed: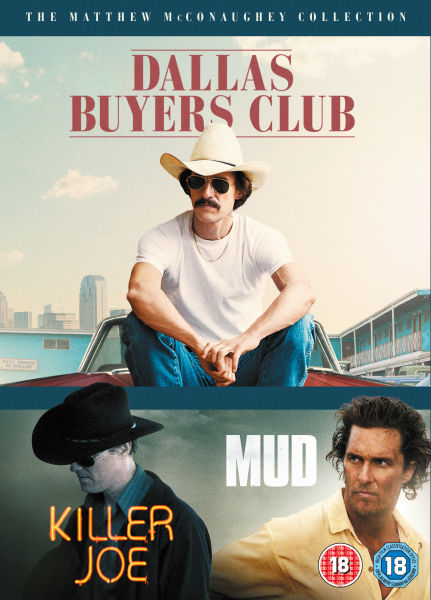 Although, I suppose this is all relative to taste, because if you happen to be a big fan of his rom-com work then you're probably lamenting his move towards Oscar-baiting drama and weeping over how skinny and weird he looks in all his movies nowadays.
Anyway, last night we watched Dallas Buyers Club, which in case you live under a rock is the 1980s-set AIDS biopic that bagged three Oscars earlier this year. McConaughey plays Ron Woodroof, a hard-drinking, rodeo-riding, drug-dealing man-slut of an electrician. Ron is diagnosed with AIDS in 1985 and given a month to live. His utter ignorance of the virus (symptomatic of the time, as well as his situation and personality) leads initially to denial of his condition, especially as he is deeply homophobic and under the misconception that only homosexuals can catch AIDS. The revelation of his condition results in his friends ostracising and ridiculing him, and the loss of his job and home. Eventually conceding that he needs some form of medication to prolong his life, he meets obstacles in the form of the FDA and the local hospital, who reveal that HIV and AIDS drug testing is still underway and he will most likely be long-dead before any drugs are approved.
Ron's determination to learn more about potential treatments leads him to undergo drastic lifestyle changes, forgoing sex, drugs, alcohol and unhealthy foods and going on a quest around the world, meeting doctors and studying research papers in order to find the optimum treatment plan for sufferers.
While this is, at first, an entirely selfish exercise, once Ron starts dealing untested drugs to other AIDS sufferers in order to make a living, he develops a new found compassion for the fellow AIDS sufferers that he meets at support meetings and in gay bars. In particular he becomes good friends and later business partners with Rayon, a drug-addicted transgender woman played by an almost unrecognisable Jared Leto. Ron's attitude to Rayon goes from absolute revulsion to something approaching love, and their relationship is the core of the film.
What could have been a horribly bleak film is actually made very uplifting as you witness Ron's transformation from a deeply unlikeable rogue to a selfless and passionate hero who takes on the FDA and pharmaceutical companies in his quest to find decent treatment for AIDS sufferers.
It's no surprise that both McConaughey and Leto won Oscar awards for their roles in this film (for Best Actor and Best Supporting Actor respectively). Their performances are riveting and nuanced, and both men ooze charisma.